COME MARCH WITH US IN THE
ROOSTER DAY'S PARADE SATURDAY MORNING, MAY 13TH!
Broken Arrow Soccer Club is excited to be participating in this year's Rooster Day's Parade! We would love for all BASC PLAYERS, PARENTS, COACHES & REF'S TO COME AND MARCH WITH US! There is no sign-up, just show up and join the fun at 9am! Entire teams or just individual players and parents are all welcome!
BASC parade participants will lineup on Main street beginning at 9 a.m. look for the BASC banner! Please dress in your team uniform, wear comfortable shoes! Those marching in the parade will pass out candy & soccer flyers to spectators along the parade route. If your child is under the age of 12, we ask that an adult be with the child while marching in the parade.
The parade route starts at Main and College and continues south along Main Street to Memphis. If you are not marching in the parade with your child (only if your child is over 12 years old) please pick up your child from the Community Center parking lot after the parade is over.
For the parents of kids over 12 who will not be marching in the parade, please read the following directions for picking up your kids at Central Park after the parade: [turn east off Elm (161st E Ave) between Houston (81st) and Washington (91st) onto Quincy St, then turn North onto Date (which turns west into Pittsburg Pl), then turn North onto Ash Place and enter Central Park.]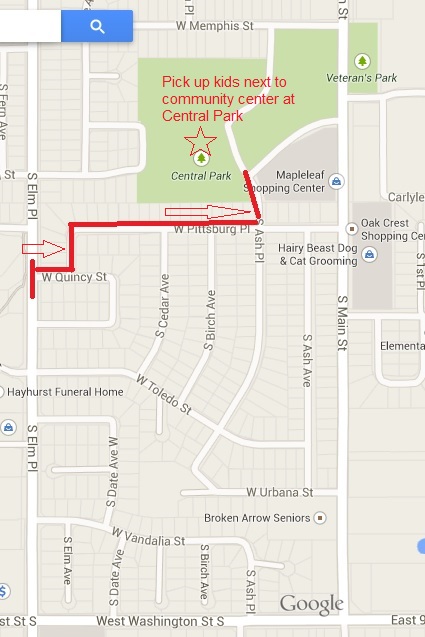 We look forward to seeing you join us for this enjoyable event and believe the kids (of all ages) will have a lot of fun!
See you there!
Broken Arrow Soccer Club
918-258-5770